BRYCE ON POLITICS
- Politics in the classroom.
(Click for
AUDIO VERSION
)
To use this segment in a Radio broadcast or Podcast, send TIM a request.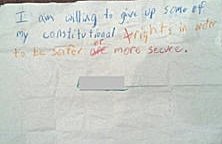 As you know, I've been discussing issues pertaining to the development of moral values, specifically how they are taught and learned. In my writings, I observed that schools are no longer teaching religion or morality, but this is not entirely true as there is considerable political discourse being added to the student's curriculum by the teachers. To illustrate:
Florida Atlantic Stomp on Jesus
- (March 27th) - a Junior at Florida Atlantic University was suspended for refusing to stomp on a piece of paper with the word "Jesus" boldly printed on it. The incident was part of an exercise in a class for Intercultural Communications. The incident became so controversial and garnered so much exposure, Florida Governor Rick Scott made inquiries of the university's chancellor. Whether the word had been "Jesus" or "Mohammad," the exercise had questionable intent and, according to university officials, it will not be used again. Had the Junior not objected, the incident would have likely been buried and the instructor not suspended.
Wisconsin teen says teachers bullying him over conservative views
- (March 28th) - An Appleton, Wisconsin high school freshman published a log of the bullying he received from his teachers for his conservative views. The log chronicled the verbal abuse he took from teachers over a three year period, at three different schools, starting in eighth grade. Whether the student is conservative or liberal is immaterial; no student should suffer such an embarrassment.
Texas prof. under fire for allegedly forcing students to make anti-gun posters
- (April 10th) - an assistant professor teaching a Graphic Design course at Midwestern State University in Wichita Falls, Texas instructed her students to develop anti-gun posters as one of their assignments. Had the students been asked to choose either a pro-gun or anti-gun position, or the teacher not used the posters for political purposes, the problem would have likely not blossomed. Instead, a student filed a complaint with the university which began an investigation. Evidently, Texas law forbids professors from using their authority to compel others to advocate political causes,
Writing Assignment at Albany High School: Explain Why "Jews Are Evil"
- (April 12th) - An unnamed Albany High School English teacher in New York, issued an assignment for the students to write an essay on why "Jews are evil." A third of the class refused to comply and brought the matter before school officials. The teacher has since been placed on leave.
Dad Furious After Finding This Crayon-Written Paper in Florida 4th-Grader's Backpack
- (April 12th) - A mother and father in Jacksonville, Florida found a paper in their fourth-grader's backpack. The paper, which had been written by their son in crayon as part of a class assignment, said, "I am willing to give up some of my constitutional rights in order to be safer or more secure." The son and his classmates were instructed to write this expression by their teacher. The assignment infuriated the student's father who quickly brought it to the attention of school officials.
It used to be, you would occasionally hear of a story where a teacher would openly discuss their personal political views, such as the North Carolina high school teacher who yelled at a student, telling him that he could be arrested for criticizing Barack Obama, but these seemed to be sporadic outbursts. Now, it seems reports of teachers promoting their political agendas has become more prevalent, such as these five stories within a 15 day period.
Back in my public High School days, the teachers never discussed politics, unless of course it was to describe the mechanics of politics in our Government classes. As students, we had our suspicions as to which teachers were liberal and conservative, but to their credit, they remained tight-lipped over politics. It's evidently not this way anymore, as politics in the classroom has become more commonplace. As I mentioned in my eBook,
"Stand Up for MORALITY,"
the discussion of politics is a discussion of morality in disguise, which is normally frowned upon in this day and age of political correctness. For example, discussions about the federal debt, marriage, gun control, entitlements, etc. is not simply a political discussion; it is a moral discussion.
Having teachers preach their view of morality and politics places students in the awkward position of questioning the values possessed by their parents. Fearing for their grades, students are generally inhibited to stand up for their rights. Such fear is simply unacceptable. Those students who rose to refute their teachers have displayed great moral courage as they faced retribution.
I wonder how much of this could be avoided with just a little discipline, such as school uniforms (for both students and teachers alike), and a little respect for both sides. It's a shame we cannot seem to discuss morality more openly and respectfully. Then again, someone always seems to have an agenda.
Keep the Faith!
Note: All trademarks both marked and unmarked belong to their respective companies.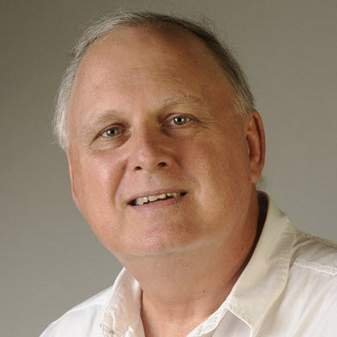 Tim Bryce is a writer and the Managing Director of M&JB Investment Company (M&JB) of Palm Harbor, Florida and has over 30 years of experience in the management consulting field. He can be reached at timb001@phmainstreet.com
NEXT UP:
BRANDING THE MORAL VALUES OF CONSERVATIVES
- How the media controls the image of conservatives.
Listen to Tim on WJTN-AM (News Talk 1240)
"The Town Square"
with host John Siggins (Mon, Wed, Fri, 12:30-3:00pm Eastern), KGAB-AM 650
"The Morning Zone"
with host Dave Chaffin (weekdays, 6:00-10:00am Mountain), and KIT-AM 1280 in Yakima, Washington
"The Morning News with Dave and Lance"
with hosts Dave Ettl & Lance Tormey (weekdays. 6:00-9:00am Pacific). Or tune-in to Tim's channel on
YouTube
.
Also look for Tim's postings in the
Palm Harbor Patch
,
The Gentlemen's Association
, and throughout the Internet.